B Pritchard and Son Garage Door Service
is a family owned and operated garage door installation and maintenance company based in Ottawa, Ontario.
We supply, install, and service all makes and models of residential, commercial, and industrial garage doors and operators. Our family has been in business for over forty years - there is no garage door we haven't seen! Our combined years of experience give us a unique ability to quickly install and troubleshoot garage doors and operators.
As a family run business, we are able to provide exceptionally personalized and efficient customer service: we offer a
24-hour emergency service line
, and same day service within regular business hours. If you are within 150km of Ottawa, we can help! With our extensive experience, and personalized service, we are the best Ottawa garage door installation company - call or email us today for a free quote!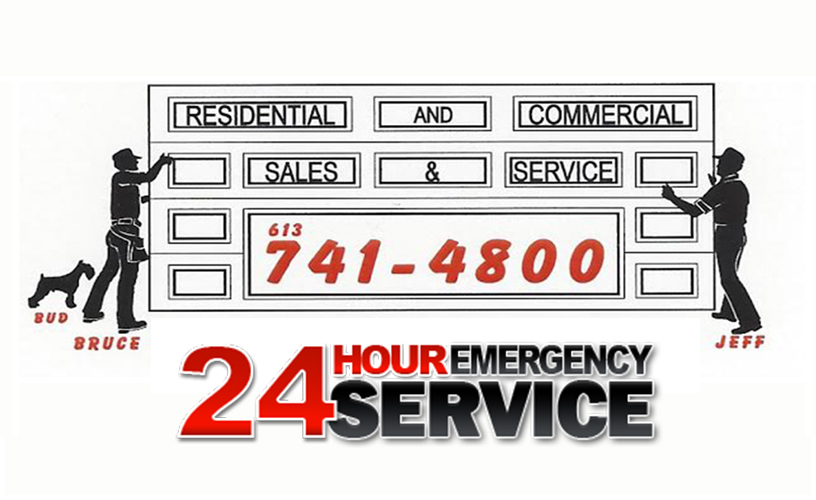 Testimonials
I just had to drop you a line and let you know how pleased I am with the new garage door opener you installed on Tuesday. It works just as we had expected and we are super pleased with the quiet and smooth operation. Since my car is a lease I have decided not to set up the homelink(lease over in April)but I am sure I will have no problem and if I do the information provided by Shane will help me get it done. I have actively followed HomeStar Reviews for a few years now and decided it was time to have the best garage door company that I know on their list. The following is the review I wrote to them. I hope you are pleased and that it will give you more business not that you need a lot more but a bit more always is nice. This company is the best! I have dealt with them for minor service as well as new door purchase and new opener just recently. Started out as a father and son company that had the knowledge and ability to make customers first right from the start. The late B. Pritchard had a way of making you feel comfortable with your purchase and the experience of his installers made the company a go to from the beginning. They were not well known at first and used word of mouth and a small advertising budget to get the business growing. Like I said I haved used their services for about 15 years under this company name and have recommended them to anyone of my neighbours who asked about a garage door company. They have a small dedicated staff who are experienced and efficient in all their dealings with customers whether they are dealing with a small thing like a broken roller and door realignment to the installation of a new door and opener system. If you are in need of garage door, security gate, commercial or residential, I would defintely recommend that you contacted this company for a quote. It will be worth the phone call. God Bless "

I just wanted to send a quick email and say thank you. We haven't had much luck with contractors since moving into our unit at Garden Park Lane and Gerry and I have been frustrated more than we have been happy. Today that changed. Gerry called me to tell me that Shane did a fantastic job, he was really nice and his attention to detail was very impressive. A great work ethic that you don't see much of anymore. Thank you so much for making a difference! "

Joey was an absolute pleasure to deal with and we are impressed with the overall service your company ended up providing to repair our garage door. We also truly appreciate your authorizing the military discount. That meant a lot. "

Contacted this company for a quote to supply and install a ********** 8500 garage door opener. I got a quick response from Jeff P********. As the 8500 is a wall mounted opener and I have a small garage Jeff had one of his associates (Mike) drop by the house beforehand to make sure it would fit. A few days later Mike arrived early to install the opener. Mike is very friendly and knowledgeable. He installed the opener and the other components in approximately 1 hour. He carefully explained how the system worked. The installation was very tidy. Mike adjusted the garage door spring and lubricated it. This company is very professional, skilled and provide great customer service. I would use them for any future garage related work and highly recommend them to others. "